Event Navigation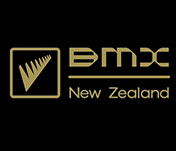 2022 BMXNZ JNR SELECTION QUALIFIER – NH
February 26, 2022 @ 9:00 am

-

2:00 pm
As noted in the CNZ Selection Regulations, there are two localised selection event to assist Championship Jnr Riders have the ability to have an accessible secondary selection pathway.
These event are run for Championship Jnrs only and are focused on tracks that replicate the level that will be encountered at World Championship and World Cup events.
The event will be run to the standard Championship Class regulations. The outcomes will be noted by selectors so that these can be used to assist selection decisions for the 2022 UCI BMX World Championships in Nantes France.
EVENT DATES
Championship Jnr Selection Event R1 – 26th February 2022, North Harbour BMX Track
Championship Jnr Selection Event R2 – 27th February 2022, Rotorua BMX TrackENTRY
ENTRIES OPEN: 11 February 2022
ENTRIES CLOSE: 20 February 2022
Online entries only. No late entries will be accepted.ENTRY FEES: All entries – $25
ENTRY INFORMATION:
No entry will be taken on day of event.
Entry is complete only when payment is confirmed.
BMXNZ reserves the right to refuse entry to any person.
No refunds will be given after Friday 25 February 2022 for any reason. Refund prior to this will be given on receipt of medical certificate, less administration fee of $20.

CLASSES OFFERED

Championship Men Junior
Championship Women Junior

NUMBER PLATES
Any number plate may be used. All plates must conform to the UCI numbering regulations and the BMXNZ number plate standards.
RIDER REGISTRATION
All Rider transponders MUST be checked onsite prior to racing, this check is your event registration process. 
This will be done at the check point near the Admin hut. The process is a simple roll over of a mat loop & then checking your detail on a screen. Any detail errors must be noted with event admin immediately. This process MUST be done at each of the two events. All Championship Riders must also provide proof of
a current BMX licence to the race admin during this registration process. 
PRACTICE PRIOR TO EVENT
The tracks may be available prior to each event. Contact the club for availability 
RACE FORMAT
UCI Transfer System 
Olympic Lane Allocation
30min Block Race Format will be used
4 Motos points over
4th Moto to replicate a finals sequence, lane pics, timing etc. (does not have a final result)
In case of disruption or adverse weather, moto format may be changed, at the discretion of the Commissaire.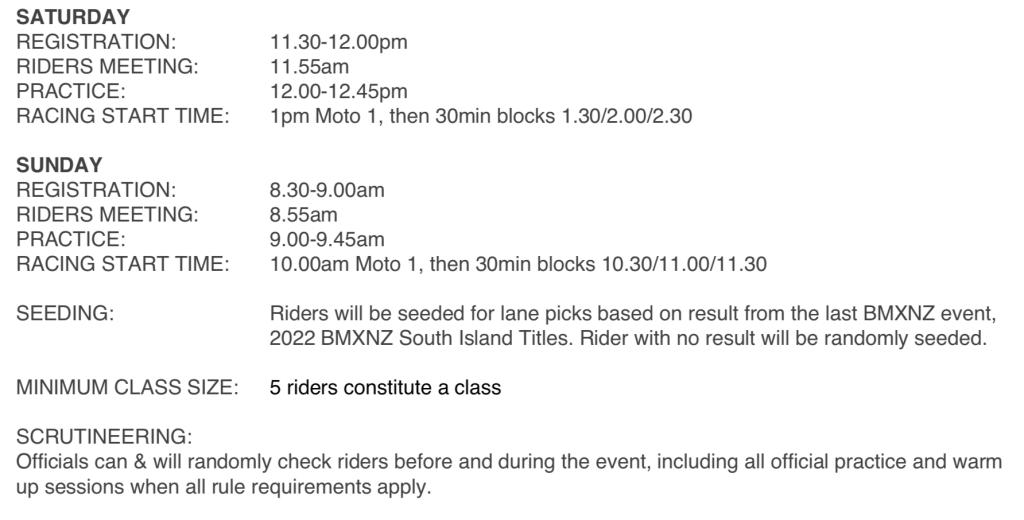 TRANSPONDERS
Transponders will be used at this event .Please update your BMXNZ Online Profile with your transponder number BEFORE the entries close, to see portal follow this link – https://nzbmx.club/riderportal Transponder Registration. All transponders will need to be registered onsite prior to racing. This will be done at the check point near the Admin hut.
It is the entrants responsibility to check that their transponder is working prior to practice. A non-functioning transponder at race time will result in a DNS. 
SELECTION REGULATIONS 
The selection regulation for Championship Riders can be found on the following link, https://www.cyclingnewzealand.nz/high-performance/selection-regulations/ 
EVENT HEALTH & SAFETY STATEMENT 
BMXNZ, The North Harbour & Rotorua BMX Clubs will comply with the requirements of the Health and Safety at Work Act 2015 by committing to providing and maintaining a safe and healthy environment for all riders, families and visitors to the BMX Event facility. It is the sports policy to "make every practical and reasonable effort to protect all visitors, to prevent accidents or serious harm injuries and promote safety and welfare of all persons while on the event facility". BMXNZ, The North Harbour & Rotorua BMX Clubs will take all possible steps to list and evaluate hazards and to determine solutions to eliminate or minimise those hazards as part of the Event Risk Management Plan (RMP), to meet the sports policy noted above. 
BMX Racing is an action sport & inherently has risks that are accepted as part of sport. All known risks are noted in the BMXNZ Major Meeting RMP & this is available onsite during the event. Parties wanting to assess the RMP prior to entry must contact the club for detail. Entry to this event confirms an understanding of the risks of the sport as noted in the RMP. In the event of injury to an event participant, a completed entry is consent to proper medical treatment being administered. Event entry also consents to submit to drug testing if required. All entrants agree to be bound by the regulations and general conditions for this event as published by BMXNZ in its latest rule book. Any reference to BMXNZ within this flyer or entry is referring to BMX New Zealand Inc. 
Safety and safe practices at all BMXNZ calendared events are not negotiable and failure by anyone to comply by the code of conduct or rules of the sport will result in the removal of such persons from the event facility. 
BMXNZ CONTACT NUMBER: Dion Earnest – 021 2707199 – dion@bmxnz.co.nz 
BMXNZ Selector – Adam Coker
BMXNZ Selector – Nick Fox
CNZ BMX Selection Convenor – Graeme Hunn